Download the new PeopleTalk article by Eitan Sharir
"On a Monday in July, a pair of newlyweds headed to Grouse Mountain to meet and greet their guests for the reception atop the peak. When new groom Greg and his bride Aleta arrived to find the gondola out of commission due to high winds, the reception seemed a foregone failure. When the plans atop the mountain fell through, there was no question as to the next call; Greg called his colleagues at Riv- er Rock Casino Resort where he worked as an account manager. Two hours later, a complete wedding reception had been ar- ranged, from catering to decor to entertainment—and a magi- cal day rallied to new heights, albeit on ground level at River Rock. Everyone jumped back in their cars, headed to Richmond and the big day did not miss a beat. It was as if the reception had been planned that way all along."
How did River Rock Resort pull off such a feat? Why did Greg not hesitate to effectively 'head back to work' on his wedding day? They could do it because they have worked hard to build a Vertical Organization and instill a strong culture of innovation.
What is a Vertical Organization?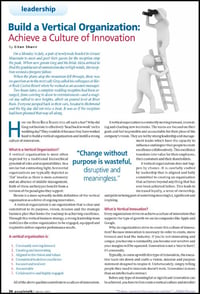 A Vertical Organization is most often depicted by a traditional hierarchical pyramid of roles and responsibilities. In a similar but contrasting light, horizontal organizations are typically depicted as 'flat' insofar as there is more autonomy and an absence of middle management. Both of these archetypes benefit from a revision of the paradigms they support. Herein is a more upwardly mobile definition of the vertical organization as a driver of ongoing innovation
Download the full article to learn how to build a Vertical Organization to achieve a culture of innovation.
Start Building a Culture of Excellence Today with our New eBook
To learn more about how you can build a Culture of Excellence in your organization, download my new eBook: Culture of Excellence: The Secret to Creating a High Performance Organization. You'll gain insight on how to move away from a culture focused on problem solving and rewarding mediocrity, and build a culture that will give you the organizational and bottom line results you want.
To take the next step in developing a Culture of Excellence in your organization, download our free eBook: